Princeton'daydim bugun. Tesaduf eseri, bugun de o kucucuk ve sevimli New Jersey kasabasinin kurulus gunuymus. Panayir alanindan gecen kervana goz attiktan sonra, Amerikanin en unlu ve en eski universitelerinden biri olan Princeton Universitesi'nin kampusunde aldik solugu. Universitenin kampusunden ne kadar buyulendigimi size anlatamam. Aklima
Russell Crowe'un basrolunde oynadigi
"A Beautiful Mind" adli film geldi. Zaten universitenin bircok kosesinde sanki filmin setinde yuruyormus hissine kapildim ve filmin ilk sahnesindeki matemetikcileri karsilama sahnesini hatirladim. Filmdeki profesor iclerinde John Forbes'in de bulundugu gruba soyle diyordu:
"Mathematicians won the war. Mathematicians broke the Japanese codes and built the A-bomb. Mathematicians... like you. The stated goal of the Soviets is global Communism. In medicine or economics, in technology or space, battle lines are being drawn. To triumph, we need results. Publishable, applicable results. Now who among you will be the next Morse? The next Einstein? Who among you will be the vanguard of democracy, freedom, and discovery? Today, we bequeath America's future into your able hands. Welcome to Princeton, gentlemen."
Princeton Universitesi'nin belirli konularda olan ustunlugunden, mezunlarinin kimler oldugunu belirtmeye zaten gerek yok ama boyle bir kampusde tum hayatimi calisarak, veya o hall den bir digerine gidip, ders dinleyerek veya okuyarak gecirebilirim. Belli mi olur, yolum ogrenciligimde buraya dusmedi belki ama daha sonrasinda olarak duser.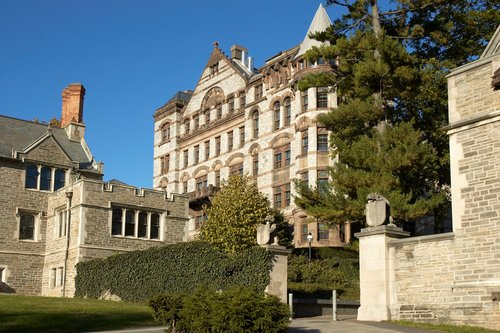 Eger sizde New Jersey ve civarina giderseniz, Princeton Universitesi'nin kampusunde tur atmaya ve ardindan Princeton'in ana caddesinde soluklanip bir dondurma yemeye vakit ayirin. Pisman olmayacaksiniz :)))